Pinza Idéal pour le déjeuner, diner et souper.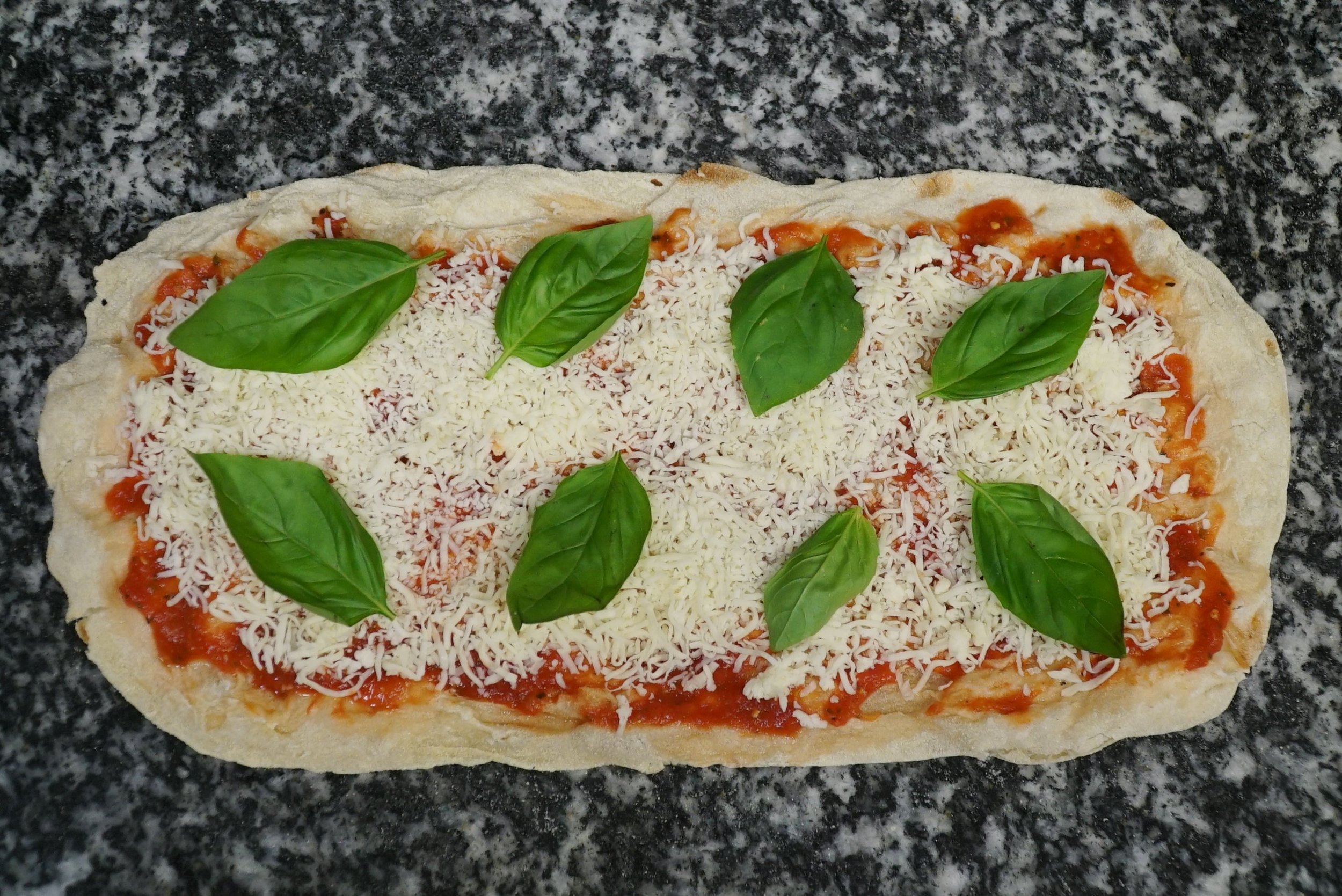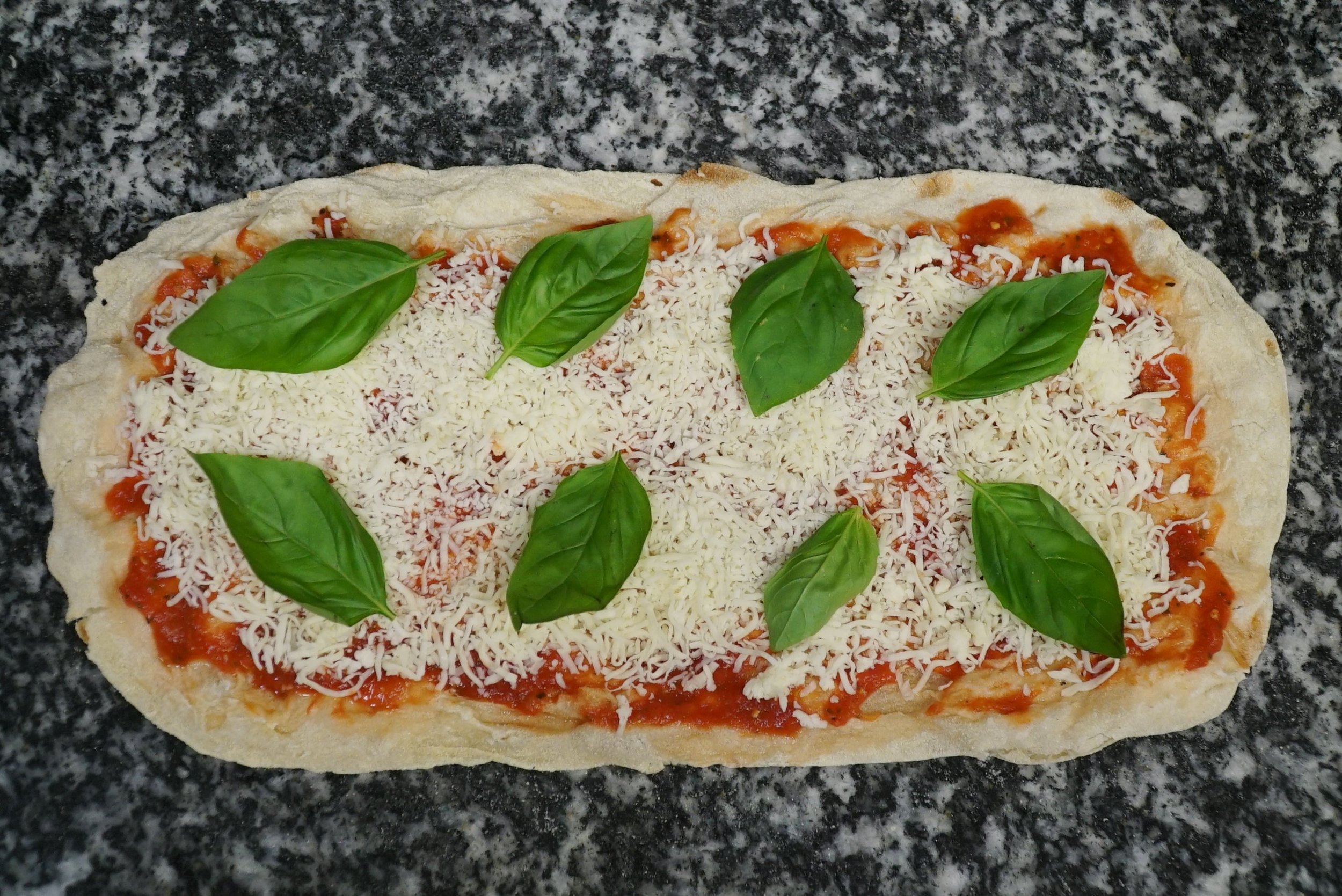 Pinza Idéal pour le déjeuner, diner et souper.
PRODUCT: Frozen Pinza Dough – Partially Baked
A Highly Consistent quality Pinza with Endless Flovour Toppings
All Natural
Non GMO
85 % less fat
1/3 less calories
no added sugar
Four Ancient Grains & unique flavor
with one added benefit,
IT'S MUCH HEALTHIER !!!
Une Pinza de qualité très consistante,  avec des garnitures sans fin

Tout naturel

sans OGM

85% moins de gras

1/3 moins de calories

Sans sucre ajouté

Quatre grains anciens avec une  saveur unique

avec un avantage supplémentaire,

C'EST PLUS SAIN !!!
PINZZA ROMANA is a modern take on pizza & is made with a unique blend of ancient grains. It is lower in fat & calories compared to traditional pizza dough. It's also much more digestible! Our stone baking ensures the authentic sour dough pizzeria flavor comes through in each & every bite. INGREDIENTS: (And Proud Of It)
FLOUR, (Wheat, Rice, Amaranth, Spelt, Semolina), Water, Olive Oil, Sour Dough Starter, Salt, Yeast.
COOKING INSTRUCTIONS:
Cuisson au four: À 450 ° F. à 500 ° F pendant 5 à 7 minutes Ajoutez les garnitures de votre choix. Comme c'est cuit au four, nous vous recommandons de couper les légumes en tranches très fines et de cuire les plats de viande au préalable. Habillez votre Pinzza avec modération pour de meilleurs résultats. La durée et la température du four peuvent varier, ajuster si nécessaire.
Oven Bake: AT 450°F. to 500°F for 5 to 7 minutes Add you toppings of your choice, As this is par-baked, we recommend vegetables be sliced very thin and meat items be pre-cooked. Dress your Pinzza sparingly for best results. Oven time and temp may vary, adjust as necessary.
PINZZA ROMANA IS: Une version moderne de Pinzza faite d'un mélange unique de céréales anciennes (blé, épeautre, amarante, riz, semoule,) et une croûte prête à cuire.
Il est moins gras et moins calorique que la pâte à pizza traditionnelle. Contrairement à la pâte à pizza traditionnelle, notre Pinzza est très facile à digérer. Une partie de notre traitement nécessite une levée de pâte acide de 48 heures minimum à une température contrôlée qui élève la saveur de la pâte acide unique à ce produit. Le processus de fermentation plus long garantit également que la levure a terminé le processus de levée consistant à décomposer les sucres naturels, et elle ne poursuivra pas le processus de levée après avoir été consommée. En raison de sa forte teneur en humidité, la pâte ne peut pas être étirée ni roulée avec la méthode de la pâte à pizza traditionnelle et ne peut pas être travaillée à la machine. Cela ne peut être fait qu'à la main. Chaque Pinza est fabriqué à la main et est donc unique. La cuisson à la pierre garantit que chaque bouchée donne sa saveur authentique de pizzeria à la pâte acidulée.
Aujourd'hui, vous pouvez goûter à cette ancienne tradition en moins de 10 min.
A modern take on Pinza made with a unique blend of, ancient grains (wheat, spelt, amaranth, rice, semolina,) in a ready to bake crust.
It is lower in fat, and lower in calories than traditional pizza dough, and unlike traditional pizza dough our Pinzza is highly digestible. Part of our processing requires a minimum 48-hour sour dough leavening at controlled temperature that matures the sour dough flavor unique to this product. The longer fermentation process also ensures the yeast has completed the leavening process of breaking down the natural sugars, and it will not continue the leavening process after eaten. Due to the high moisture content, the dough cannot be stretched or rolled in the traditional pizza dough method, and cannot be worked by machine. It can only be made by hand. Each and every Pinzza is hand made, and thus each one is unique. Stone baking ensures the authentic sour dough pizzeria flavor comes through in each and every bite.
Today you can enjoy a taste of this ancient tradition in under 10 min.
PINSA ORIGIN – FROM ANCIENT ROME
Le mot «pizza» vient probablement de «pinsa» (pinsere en latin qui signifie presser ou écraser). Dans l'Annélide, Virgile a décrit pour la première fois Pinsa, dans son Annelide, comme étant préparé avec de l'épeautre et utilisé comme «assiette» pour servir de la viande cuite dans une sauce consistante, garnie de légumes, de morceaux de viande ou de fruits. Les Romains utilisaient principalement le farro (épeautre), alors appelé «lointain». Il est raisonnable de croire que cela a donné le nom à notre mot moderne "farina" (farine).
The word 'pizza' most likely derives from "pinsa" (pinsere in Latin meaning to press or to crush). Pinsa in it's ancient Roman origin was first described by Virgil in the Annelid as being made with spelt and used as a "plate" to serve meat cooked in a hearty sauce - frugally topped with vegetables, meat bits or fruit. The Romans used mainly farro (spelt), which was then known as "far". It is reasonable to believe that it gave the name to our modern word "farina" (flour)
AVAILABLE IN PACK OF 12/ emballage de 12
FOR BREAKFAST, LUNCH AND DINER.
Idéal pour le déjeuner, diner et souper.